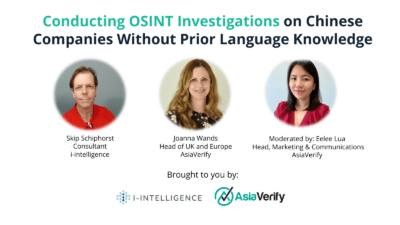 This webinar will provide practical tips and strategies for effectively conducting open source intelligence (OSINT) investigations on Chinese companies, even if you don't have prior language knowledge in Chinese.
Navigating the world of Chinese companies can be challenging due to language barriers and cultural nuances. However, with the right tools and techniques, you can gather valuable information and insights to make informed decisions.
We will be joined by Skip Schiphorst from i-intelligence and Joanna Wands from AsiaVerify to explore various OSINT sources that are accessible and relevant for researching Chinese companies. In particular, how to apply the techniques and Open Source Data in KYC/KYB Investigations.
Whether you are a business professional, investigator, financial crime fighter, or researcher, this webinar will equip you with the knowledge and skills to conduct OSINT on Chinese companies without requiring prior language knowledge in Chinese. Join us to unlock the power of OSINT in your investigations.
The Speakers
Skip Schiphorst Consultant, i-intelligence
Skip is a Sinologist from Leiden University. As an expert in Chinese corporate research and open source intelligence (OSINT), Skip brings a wealth of knowledge and experience to the table. With a specialisation in open source intelligence in Chinese, Arabic and other languages, Skip is well-versed in conducting research and investigations in foreign languages. Skip is also an OSINT instructor and consultant for I-Intelligence GmbH, a Switzerland-based company.
Joanna Wands Head of UK & Europe, AsiaVerify
Jo has over 15 years of experience in RegTech, working with companies across EMEA and APAC to implement solutions that manage compliance risks and improve business processes. She leads AsiaVerify's commercial strategy in Europe and is focused on delivering new business sales growth and increasing our reach in new geographies and verticals. She is passionate about financial crime prevention and focuses on helping businesses better understand who they are working with in the Asian markets.
Eelee Lua Head of Marketing & Communications, AsiaVerify
Eelee is a seasoned business leader in risk mitigation and commercial due diligence in the APAC region. She has a passion for leveraging technology to create a positive impact for future generations. With expertise in RegTech, risk and compliance, Eelee advocates for more women in tech and champions female leadership. Her communication skills and people-centered approach have helped establish AsiaVerify as a trusted thought leader in the industry.
SECURE A SEAT today!