Our international team and suite of skills at AsiaVerify continue to grow! In this vein, we are very excited to introduce to our clients
Taahira Ayoob!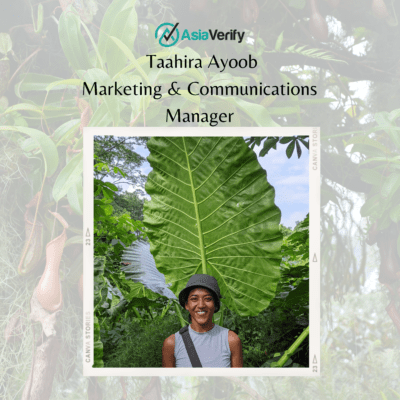 Taahira will be leading our Marketing and Communications efforts as we continue to grow our reach and influence in the global RegTech ecosystem.
Taahira brings with her an exciting and varied background, underpinned by her passion, integrity, and ability to get to the very heart of things, in order to develop highly transparent and valuable communications and connections. She is also an adventurous spirit, having previous professional experience in journalism, communications, and destination marketing. We are sure this will be invaluable as we establish AsiaVerify as the world's most trusted trade gateway to Asia!
We sat down with Taahira to find out what drew her to the RegTech industry and what impact she is looking forward to making at AsiaVerify.
Can you tell us a little about where in the world you are from?
I come from the little island of Singapore. My grandparents came as immigrants from a little village of South India called Kadayanallur in the 1950-60s to settle here, and since we have had three generations of Singaporean Indians living all over island. Singapore is a city in a nature, so it is hyper-urbanized, very well connected by public transport and has little pockets of greenery everywhere you go. In fact, there are about 6 million trees in the city, which is almost equal to the number of people in the city.
What drew you to join AsiaVerify?
People and culture are very important to me – I was drawn to Eelee's openness and ambition to push AsiaVerify as the leading regtech company. I was also curious to see how much AsiaVerify has grown is just two years, how RegTech works, and AsiaVerify's key role in it. I was curious to see how I could play a part in amplifying the work they do to benefit companies.
What impact are you looking forward to making at the company?
Together with the BDM and product team, I would like to push for AsiaVerify to be the leading voice in the RegTech and compliance space.
Can you tell us a little about your background and what were you doing in your previous career?
I worked in journalism and communications mainly in the travel space – with an NGO, national tourism board and a travel lifestyle website. I am and still a big, passionate traveller at heart, and I think since the pandemic, I've learned to acquire traveling as a mindset – to see the world and where I am with fresh eyes wherever I go. I look forward to bringing these fresh lenses to the RegTech space.
What do you love to do outside of work/or other interesting fact about you?
I am generally an adventurous and curious person – I love hiking, snorkelling, long walks, exploring places, and learning about people and things I have never known about before. In fact, I have a sheet of paper on my living room wall where I record at least one new thing I have learnt from the day. Today's new thing would be from our colleague, Shane Murphy. He mentioned that Ireland's southern city's name, Cork comes from the Irish word Corcaigh, which means marsh in Irish.
---