To celebrate the launch of our next generation UBO technology, we're calling all #fraudfighters to play along over the next five days, following the clues to unmask the mastermind and unveil the Ultimate Beneficial Owner! Our ultimate fraudfighter will solve the mystery and unveil the UBO first, to win a Visa giftcard of SGD$500.  Several other prizes are also on offer, with winners to be announced at the launch!
AsiaVerify dares you to complete our
challenge!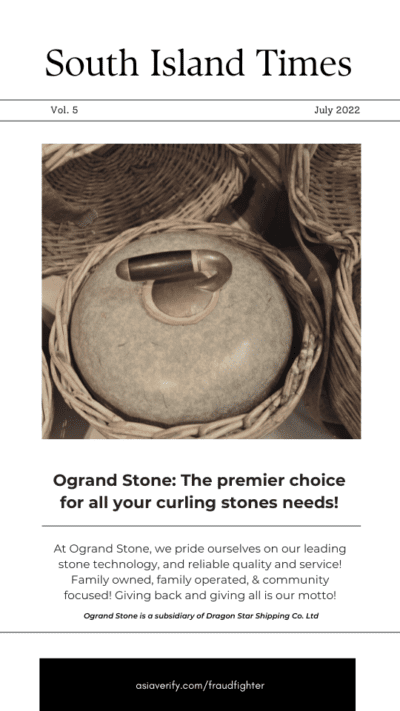 It's time to dust off your detective monocle! Day #5 is here:
An (fictional) excerpt from the South Island Times:

Breaking news: Tolaga Bay Taniwha's triumph!
The Cromwell curling community has been thrown into chaos with the match-fixing allegations from the Breathing Fire Curling Spectacular spilling over into the South Island Curling Roundup.
The triumph of rivals the Tolaga Bay Taniwha's over local favourites, the Cromwell Chimeras, combined with the match-fixing allegations associated with the Bayside Basilisks has resulted in speculation that the Basilisks and Taniwha's were working in concert to deny victory to local duo, and thereby also assuring themselves of selection for the New Zealand National Team.
Things came to a head when it emerged that Central Otago company, Ogrand Stone had sponsored both the Taniwha's and the Chimeras representing a conflict of interest.
Ogrand Stone's owner, Ando Grase refutes this, claiming that there has been no wrong-doing, and that 'robust competition, and appropriate financial support is the only way that curling can develop within New Zealand, taking its rightful place as the premier national sport.'
Followers of the story will remember that allegations of match-fixing and money laundering were levelled against Apalala Takshaka of Kaliya Masonry.  However, investigations revealed nothing more nefarious than misuse of a company credit card and appalling judgement.  Despite this, there is renewed interest in curling as a potential avenue for money laundering thanks to the emergence of online betting, and members of the curling community are watching with interest as it appears that the bets placed by Takshaka may only be the tip of the proverbial dragon's tail.
Fraud Fighter Challenge Day 5 Entry Form: