After a stellar year in 2021, our team at AsiaVerify is also growing! We are very excited to introduce you to our newest Business Development Manager, Shane Murphy, who has made the move all the way from London UK to join our Singapore team!
While he has moved from London, Shane's roots belong to the emerald isle of Ireland, having grown up in Midleton, a small town near Cork City. It's an ideal location with the convenience of a nearby city, countryside at your doorstep and only a short drive to the beach. However, Shane has always had an itch to explore more of the world.
We sat down with him to ask him a few questions about what he is looking forward to in joining AsiaVerify and relocating to Singapore.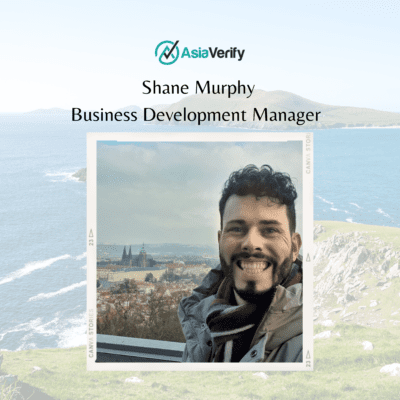 What are you looking forward to in living in Singapore?
As a passionate foodie, I am really looking forward to savouring the exciting food options in Singapore. I am an adventurous eater and surprisingly have the spice tolerance to go with it. In London, I have been spoilt for choice. So where to go from there? The answer is of course Singapore!
Why did you decide to join AsiaVerify?
To be honest with you, it was a no brainer to join the amazing team at AsiaVerify! A young, innovative and rapidly growing RegTech company, with best-of-breed technology; combined with a fantastic culture to match its ambition ticked all the boxes of what I was looking for at this stage of my career.
What impact are you looking forward to making at the company?
I am passionate about the client experience, and I am looking forward to bringing my expertise and experience to the team to boost our already excellent client relationships and further enhance the client's experience with us. I'm looking forward to playing my part in what is an exciting stage for AsiaVerify as we expand our capabilities and services around the world.
What do you love to do outside of work/or another interesting fact about yourself?
Did I already mention I am a big foodie? I also love to cook interesting dishes and make fresh pasta.
I love rugby (Munster/Ireland supporter) and played touch rugby in London. I am hoping to find a team in Singapore once it is back up and running.
I also used to work for Guinness World Records, responsible for looking after records. One of my personal highlights is meeting the voice actor for Super Mario, Charles Martinet.
Thanks Shane! We are thrilled to have you join our team.
You can join us in Welcoming Shane to the team here:
Shane.murphy@asiaverify.com